A native iPhone/iPad application as simplified model
of The Catalogue of Currencies software database.
MoneyCheck is an authentication tool for quick detection.
MoneyCheck helps you to verify the banknotes genuineness and validity.
MoneyCheck offers you professional, simple and effective work with global currencies.
MoneyCheck application will allow you easily distinguish genuine banknote from the counterfeit.
MoneyCheck application will allow you to check overt and semi-covert security features.
Please note that MoneyCheck application contains only legal tender banknotes.
We offer you 2 variants:
MoneyCheck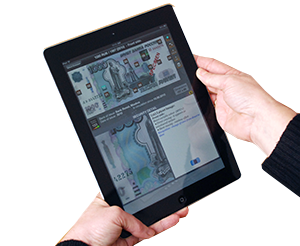 - short version with 25 most frequently used world currencies:
USD, EUR, GBP, CHF, DKK, SEK, NOK, RUB, CNY, HKD,
INR, JPY, CAD, AUD, NZD, BRL, ARR, CLP, IND, THB,
AED, ILS, TRY, MXN, EGP
MoneyCheck+
- full version with all legal tender banknotes in the world