Europa series follows with 10 euro banknote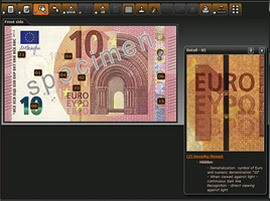 After last emission of 5 euro banknote from the Europa series, ECB issued 10 Euro banknote with new security features. This banknote was be put in circulation on 23.09.2014.
New Europa series have new enhaced security features:
Redesigned watermark portrait
Redesigned hologram portrait
New emerald number - SPARK®
Redesigned UV-A protection
New UV-C protection etc.
Emerald number, UV C protection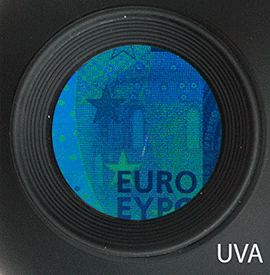 Emerald number - SPARK ® is quick and easy recognizable security feature and it is impossible to photocopy or scan its colour-shift or dynamic effects. Recognition by tilting banknote tone and richness of the colour change dynamically from green to blue. This security feature is placed in bottom left corner.

Old ultraviolet fraud protection was overtaken in old series, therefore Europa series has got redesigned UV A protection combine with new UV C protection. Bifluorescent items visible in two ultraviolet regions of light, UV-A and UV-C became the newest trend in protection against counterfeiting

More information about new Europa series you can find :



Detectors with UV C function
Magnifiers C230 UVC

New detector - special magnifiers with various type of lights. Next generation of UVC lights allows easy detection of UVC protection.
Detectors C230 UVC
More detectors from our offer :
Magnifiers

Special magnifiers with various type of lights shows an enlarged detail of banknotes or documents.
You can choose from 2 types:
Detectors C211 or C213

Detectors with detail view

Professional detectors with possibility to display and save the image of inspecting area on its own screen with 10 times magnification under various lights.
You can choose from 2 types:
Detector C11 UVC or C380
Detectors with complet and detail view

Universal desktop detectors for inspecting banknotes or documents with possibility to display and save the whole banknote (or ID document) on its display or zoomed detail.
You can choose from 2 types:
Detector C8 UVC and C12 UVC