Magnifier series C2 - banknotes and ID documents detector
Professional high-quality magnifier with direct light, side incident light and UV light.
Ergonomic shape and special material of magnifier surface makes your work more comfortable. Easy switching between various light types makes the quick counterfeit detection possible.
Base functions:
Detail view
White direct light
White sidelight
UV-A light (365 nm)
Ex works price from : 59 EUR
Additional functions:
Coaxial light 3M
Anti-Stokes (980 nm)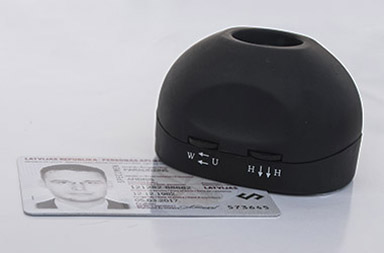 C2 magnifier with additional functions are professional ID documents detectors for high level authentication of passports, ID cards and other identification documents.
You can find more information about types of C2 magnifier in Description
Authentication of banknotes, passports etc. by using C2 magnifier:
Checking mode using white reflected light:
Printing techniques and its flaws, presence of micro-lettering patterns and its flaws on banknotes, ID documents etc.
More