C12 - banknotes and ID documents detector
Professional detection devices - protection against counterfeiting
Detector C12 is an improved model of C8 detector. Unique visualization technologies and traditional checking methods in one device helps you to recognize counterfeits extremely fast and simply!
By simply clicking on button you can take a picture of inspected security features. The images are automatically saved to the detector's internal memory with capacity 2 GB. Detector could be connected with PC by mini USB and you can copy the images to your PC for next processing.
Basic functions:
Complete view and detail view
White direct light, transmitted light and sidelight
UV A light
IR light
Take a picture of inspected security features
Ex works price : 700 EUR
Additional functions: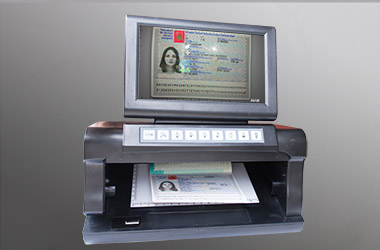 UV C light
Coaxial light 3M
Anti-Stokes (980 nm)
You can find more information about types of C12 detector in Description
The newest type ID document detector
Detector C12 SA is universal ID documents detector for high level authentication of passports, ID cards and other identification documents.
Inspection area is designed especially for handling with passports
Detector has 3 cameras that ensure full page view and detail view from 2,5x zoom to 20x zoom
Switching between the 5 different lights from different corners. Especially made to detect holographic foil, holograms, iridescent coating, OVI security features.
Device is compact and stable which allows comfort manipulation
More images